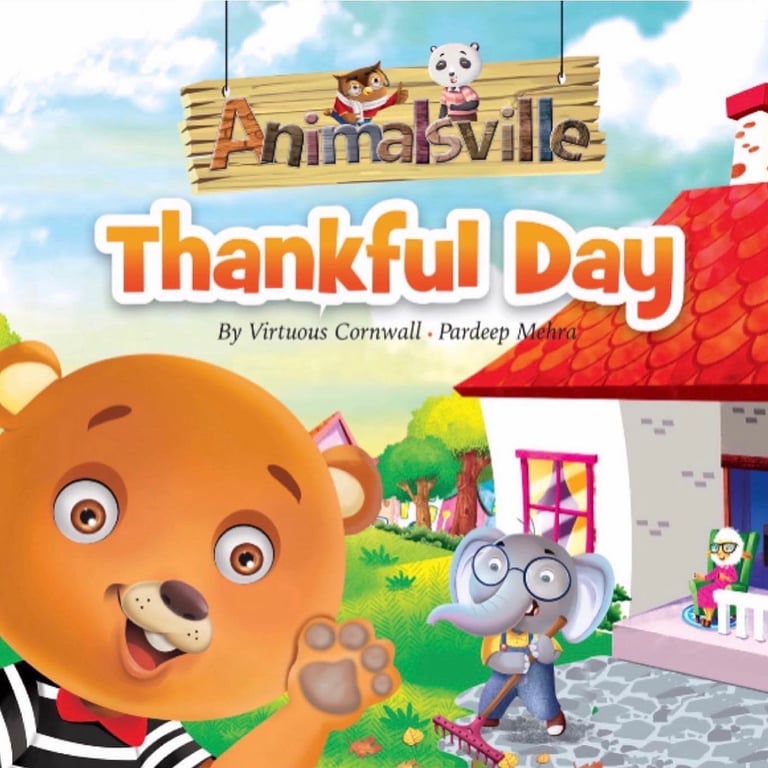 A heartwarming story that teaches children and families the true meaning of giving thanks on Thanksgiving Day. A Delightful tale!.
The town of Animalsville is showing us how to celebrate Thanksgiving through the acts of kindness. Bearlight takes us on a journey in Animalsville as he shows us what the community does on Thanksgiving day to show their gratitude.
Teaching children how to show gratitude by doing acts of kindness. During a town meeting the Mayor of Animalsville asked the residence how they can include non family members as they celebrate Thanksgiving. Mrs. Doggins suggested for them to do something meaningful. The Mayor and everyone agreed, they made a list of fun and exciting things they can do for others to celebrate Thanksgiving Day. Instead of celebrating Thanksgiving Day like usual. Each family in Animalsville worked on their fun and exciting project and did what they promised; this changed the way Animalsville celebrated Thanksgiving Day. Thankful Day was replaced by Thanksgiving Day, everyone in town enjoyed this more than the traditional way of celebrating because it is a blessing to give more than to receive.
Join this great adventure, discover and apply the simple things you can do with your family and community.
Families and communities have been through a lot these past two years. Things are not the same, so why not celebrate Thanksgiving in a different way and build a new tradition? Thankful Day shows us a different way to embrace Thanksgiving that will melt your heart.